Description
$63,751,150,423.00
Push the boundaries of 3D printing with access to the full range of Markforged Nylon and Onyx base materials and reinforce with your choice of carbon fiber, fiberglass, or Kevlar for parts with unparalleled strength and durability. 
Return to Shop
Description

Markforged X7
Industrial Composite 3D Printer
Starting at:  *
Push the boundaries of 3D printing with access to the full range of Markforged X7 Nylon and Onyx base materials and reinforce with your choice of carbon fiber, fiberglass, or Kevlar for parts with unparalleled strength and durability. The turnkey industrial carbon fiber 3D printer for functional custom parts.
A game-changing way to produce industrial-grade parts in hours, not weeks, the Markforged X7 carbon fiber 3D printer gives your teams the ability to fundamentally improve manufacturing operations.

 

Print with Markforged's full range of Composite Base materials and Continuous Fibers for a wide variety of functional requirements including flame resistance, chemical resistance, energy absorbance, high resolution, draft parts, and more. The Markforged X7 has an industrial material or print mode capable of fabricating the ideal functional part for your unique needs.

 

The Markforged X7 3D prints Continuous Carbon Fiber reinforced parts in hours that can be as strong as, and capable of replacing machined aluminum.

 
What features do you get with Markforged X7?
Precision-machined hardware, advanced sensors, and unique software drive leading edge accuracy and reliability. Markforged industrial carbon fiber 3D printers offer micron-level laser scanning for closed-loop calibration, reliably yielding parts with high repeatability and near-perfect surface finish.

 

Design your part, upload it into Eiger browser-based software, select from a wide range of Composite Base filaments and Continuous Fibers, and hit print. It's that simple.

 

Advanced hardware, electronics, and software are designed to give you a seamless user experience.

 

A reinforced, precision-machined gantry and a precision ground print bed can both be removed and replaced with 10 μm repeatability.

 
Each piece of hardware in the filament extrusion system, from the nozzles to the extruder hobs, is optimized to resist wear from micro carbon fiber filled nylon filaments and maintain print quality over thousands of hours. These parts are also designed to be easily accessed and replaced when needed.

 
Out-of-material sensors ensure that you're always up and running and will pause your print when your material spool ends so you don't lose print progress. 

 

A scanning laser on the printhead enables the printer to dynamically adjust the first layers of a print to achieve perfect bed adhesion.

 

The X7 has a 3rd-generation fiber reinforcement system that is uniquely capable of printing four unique types of continuous fiber reinforced parts.

 
MARKFORGED
Blacksmith software
Blacksmith for X7 establishes and streamlines the quality control process for additively manufactured parts. Get to market faster with confidence in your parts. By scanning parts, while they print, the X7 is the only industrial-grade FFF 3D printer with in-process part verification. Blacksmith is a subscription feature available through Eiger, the additive manufacturing software for Markforged. lt scans, measures, and compares dimensional accuracy data of printed parts to their design files giving manufacturers reliable parts right off the print bed.
Layer Height
50 μm - 250 μm
Laser
In-process inspection, active print calibration, bed leveling
Part Geometry
Closed cell infill: multiple geometries available
Build Volume
330 x 270 x 200 mm (13 x 10.6 x 7.9 in)
Looking for something a bit more rugged?

 
X7+ Field Edition
Starting at: $99,990*
Get the power and versatility of the Markforged X7 is a robust, ready-to-deploy, industrial-grade form factor.

X7 FE extends the reach of the Digital Forge, helping you produce parts at any point of need.

 
Print stronger parts. Anywhere in the world. 
X7 Field Edition is the rugged, field-deployable industrial 3D printer for tactical response to supply challenges in remote locations.

 

Whether you're in the armed services, field services, or factory operations, the X7 FE thrives even where the road is not well-traveled.

 

For those whose line of work takes them far from home, for those who venture outside the comforts of stable power and internet connections, for those without the conveniences of free next-day shipping and scheduled daily deliveries, the X7 FE is ready to go.

 
What features do you get with Markforged X7+?
For printed parts that are strong, durable, impact-resistant, and flame-retardant, you can print with Markforged's full range of Composite Base materials and Continuous Fibers.

 

Pelican AL3232 single lid case with custom foam modules and moving component locks to mitigate damage during transport. The X7 FE solution has been included in MIL-STD-810 testing in support of a DoD Program of Record.

 

Increase supply chain resilience by printing tools, adapters, and replacement parts for equipment at the point of need. Ensure dimensional accuracy for the most critical tolerances with the integrated laser micrometre and adaptive bed levelling.

 
Simple user interface for effortless print configuration, with onboard utilities for guided printer calibration and maintenance.

The X7 FE can be fully set up and ready to print in minutes.

The unit contains the materials, spare parts, and tools needed to sustain production between resupply opportunities.

 

Lightweight unibody construction, precision-machined gantry, and laser-assisted calibration ensure consistent performance, wherever you go.

 

Digitize mission-critical component inventories to bypass costly high-risk supply chains. Bring innovation directly to the point of need with powerful Offline Eiger software, which rolls improvements from Cloud Eiger into updates when you re-surface for Wi-Fi.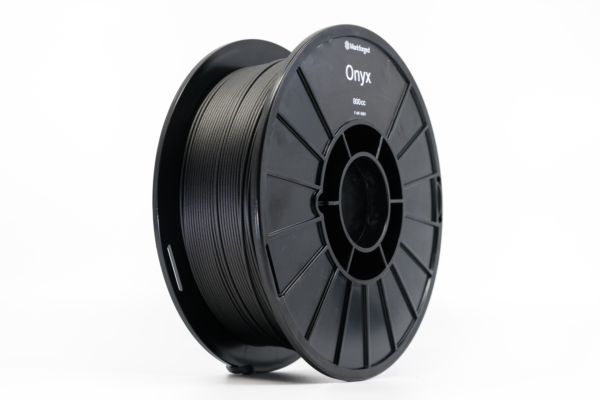 Onyx
The go-to Markforged composite for printing accurate parts with a smooth surface finish, Onyx is a Nylon base reinforced with chopped carbon fiber that boasts high chemical and heat resistance. Onyx prints enjoy both a high-end finish and twice the strength of parts from other composite printers. Try printing with embedded carbon fiber reinforcements for aluminum strength parts.
Onyx FR
There is no material traceability for Onyx FR. Order Onyx FR-A if material traceability is required. Onyx FR, although having identical mechanical qualities to Onyx, receives a V-0 rating on the UL94 flammability test. It works well for uses that need lightweight, high-strength, and self-extinguishing characteristics. Only the Industrial Series Printers can print on Onyx FR.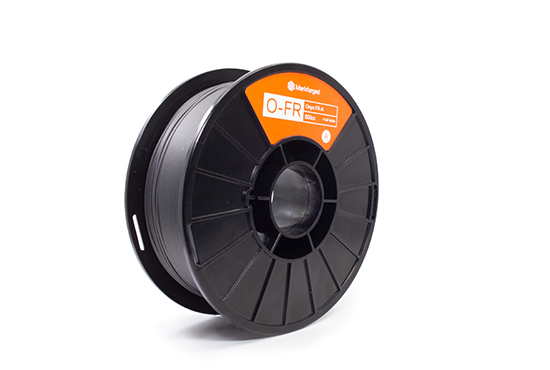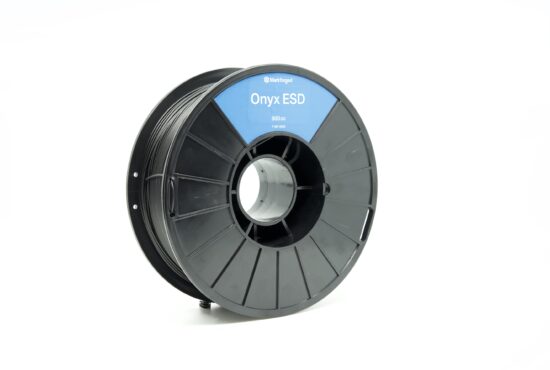 Onyx ESD
Onyx-level durability that's stronger, stiffer, and ESD resistant for a wide range of industrial applications. Developed specifically to have an extremely tight range of surface resistances that meet the ESD-safety requirements of even the strictest manufacturers, Onyx ESD is a static dissipative safe variant of Onyx that offers strength, stiffness, and a near-perfect surface finish.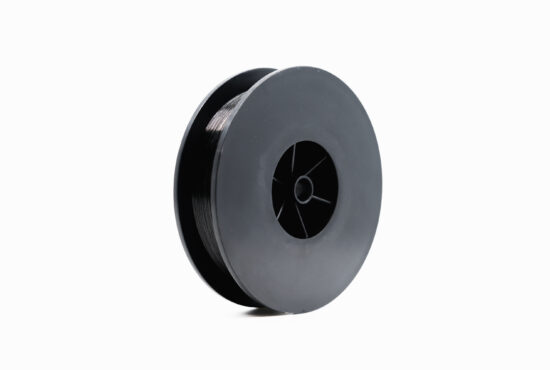 Carbon Fiber CFF
The literal and symbolic backbone of aluminum-strength, composite 3D printed parts, Carbon Fiber is the classic Markforged high-strength Continuous Fiber. Take advantage of the highest strength-to-weight ratio of the Markforged reinforcing fibers, 6x stronger and 18x stiffer than Onyx! Carbon Fiber reinforcement is commonly used to replace traditionally machined aluminum parts and fixtures.
Fiberglass
As an entry-level continuous fiber material, Fiberglass is perfect for printing parts 10x stronger than ABS, or 2.5x stronger and 8x stiffer than Onyx alone. Print robust tools, jigs, and fixtures with Fiberglass inlays on the Onyx Pro and X5, and on the Mark Two and X7 for a more affordable, accessible carbon fiber alternative.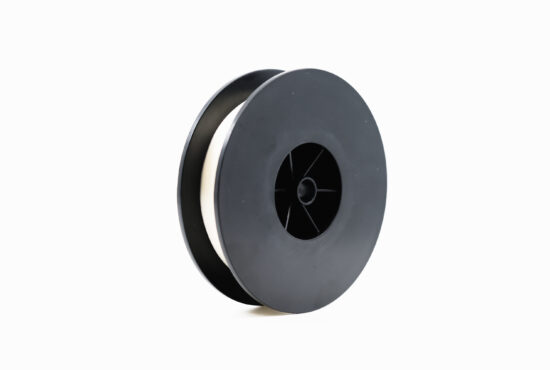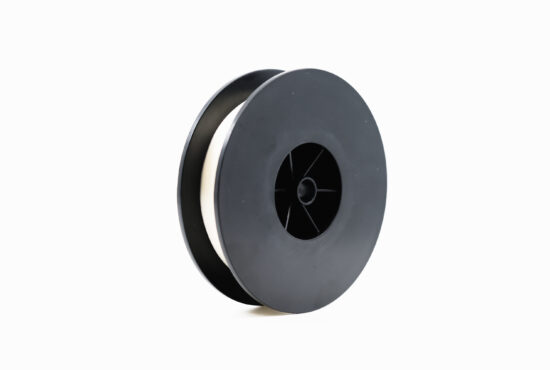 Fiberglass (HSHT)
Of course, High Strength High Temperature Fiberglass (HSHT) is iconic for its aluminum strength and high heat tolerance. Onyx parts reinforced with HSHT are strong at both low and high temperatures and are 5x as strong and 7x as stiff as parts printed in pure Onyx. It's best used for durable parts designed to operate in high temperatures.
Kevlar (Aramid Fiber)
Tough Continuous Fiber for high-impact applications, Aramid Fiber is a Kevlar-based specialized continuous fiber known for its extreme energy absorption. Armor up with Kevlar reinforcement inlays that add strength and durability for parts as stiff as fiberglass and much more ductile. When laid into Onyx or another composite base material, achieve impact-resistant pieces that are nearly immune to catastrophic failure!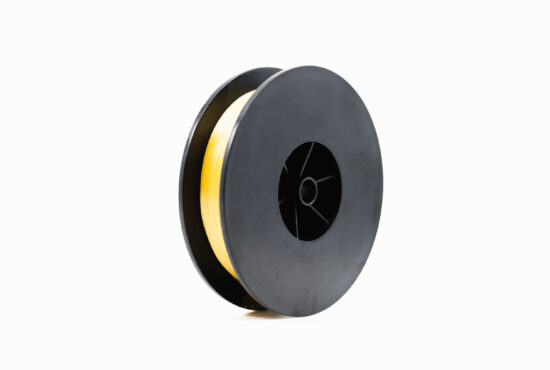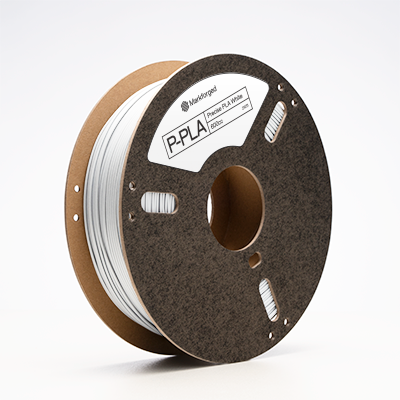 Precise PLA
Precise PLA is an easy-to-print plastic for precision concept modeling and validation. Based on the most common 3D printing prototyping material, Precise PLA 3D prints without warping and comes in a variety of colors. Best of all, it's affordable. So you can use as much as you need to fine-tune your designs before implementation.
Smooth TPU 95A
Smooth TPU 95A is a rubber-like material that when used with Markforged composite printers offers product developers and manufacturers the ability to create flexible, impact-absorbent parts on demand.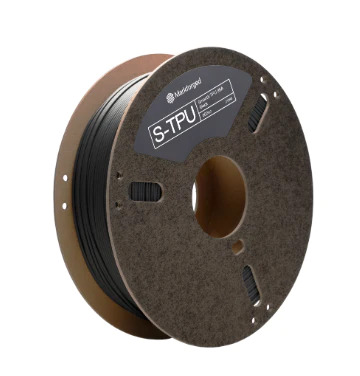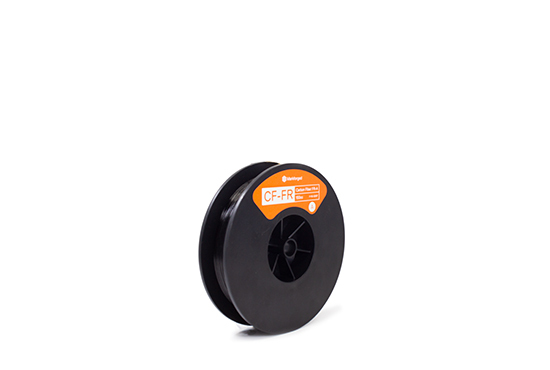 Carbon Fiber FR
Carbon Fiber FR is a flame-retardant variant of Markforged's unique, ultra-high-strength Continuous Carbon Fiber — when used to reinforce a Composite Base material like Onyx FR, it can yield parts as strong as 6061-T6 Aluminum. It's extremely stiff and strong and can be precisely laid down in a wide variety of geometries. Programmatically trace curved features, reinforce holes, and mimic unidirectional fiber layups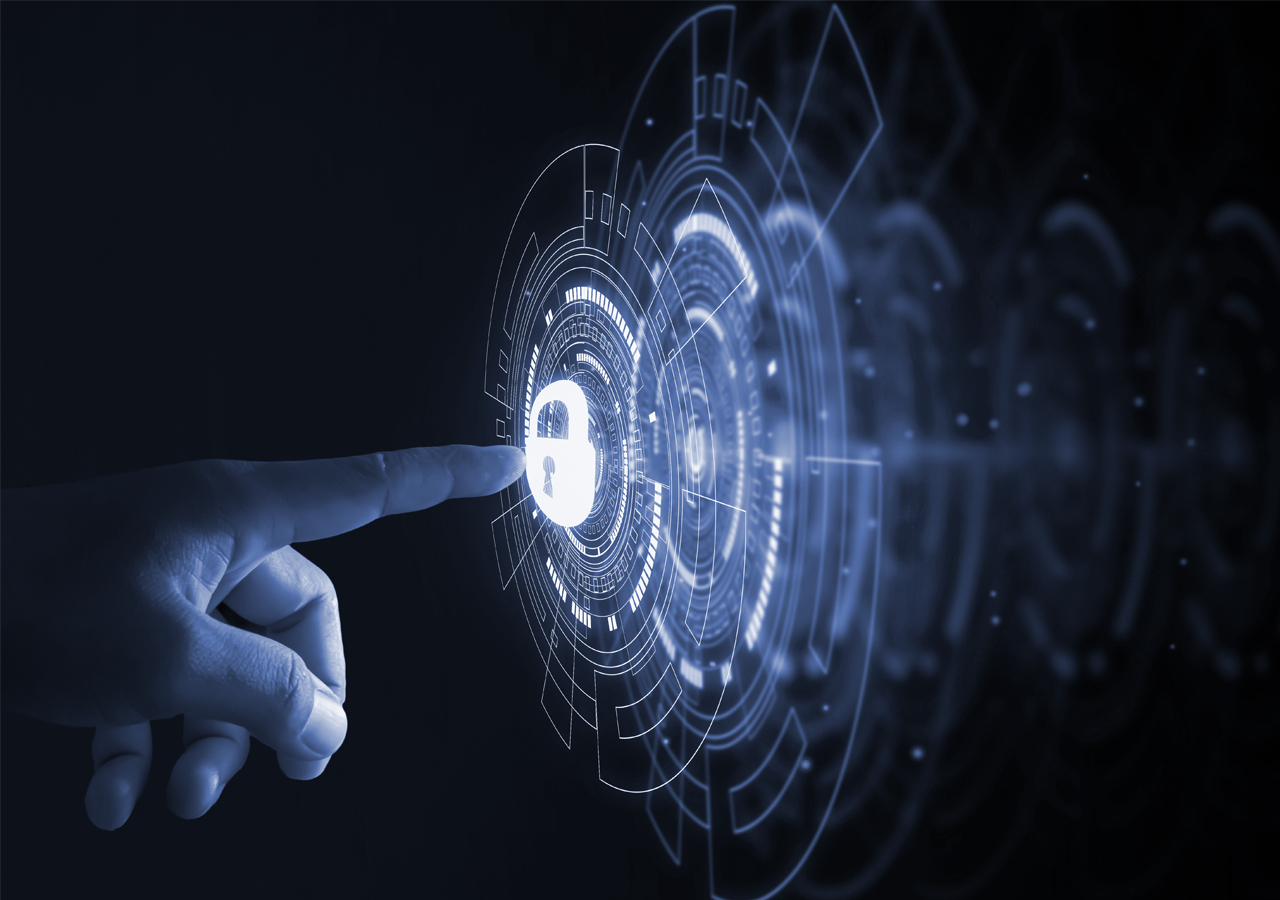 Ready to
unlock your potential?
Please fill the form and we will contact you soon!
Additional information
| | |
| --- | --- |
| Part Caracteristics | Electrostatic, Fiber Reinforced, Heat Resistant, Strength |
| Process | Production |
| Brand | Markforged |