Steven Murphy – Certified SOLIDWORKS Expert (CSWE)
So you want to learn SOLIDWORKS? Well, you are in luck- SolidXperts has your back! Whether you are learning SOLIDWORKS as your first Computer-Aided Design (CAD) package or augmenting your software portfolio, this guide will go through the information you need to get you up and running in no time!
Step 1: Know your Resources
Good News: you are not the first person to learn the software! SolidXperts is helping people just like you to learn the software on a daily. The SOLIDWORKS community can also provide a ton of valuable material to augment your learning experience. Here is a list of the resources that you should become familiar with:
In-Person or Online Training
The most important resource for getting up to speed quickly on SOLIDWORKS is the online and in-person training courses provided by SolidXperts. These classes are designed to teach new users not only how to use SOLIDWORKS, but to understand the thought process behind design intent. You will work with SOLIDWORKS Experts who will personally cater to your learning style.  The "SOLIDWORKS ESSENTIALS" class is the best way to get to where you want to be.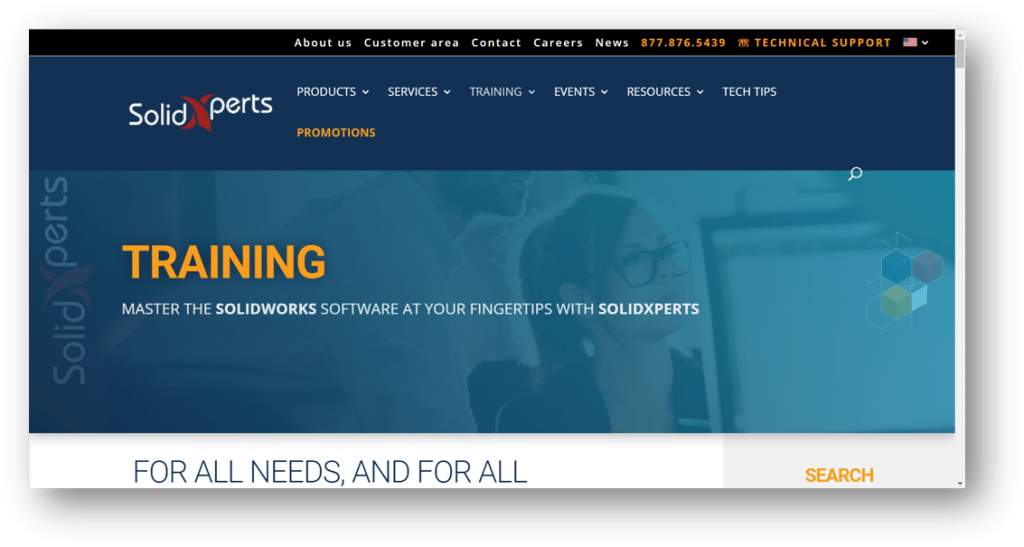 Tutorials
Did you know that SOLIDWORKS has built-in Tutorials to teach you the software? Located under Help (1)> SOLIDWORKS Tutorials (2) > Getting Started (3), there are a series of hands-on tutorials that will walk you through learning the basics of the program.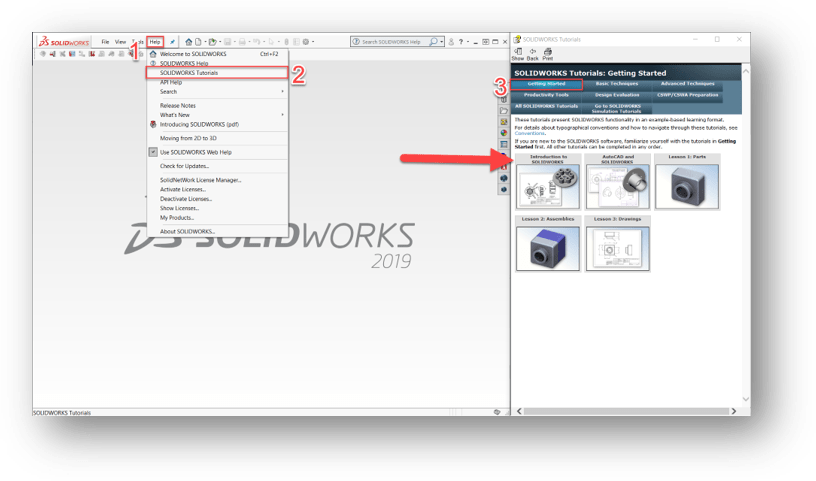 Blogs & Forums
Well, you already found this blog, so you are on the right track! From walkthroughs to tutorial videos to Q&A threads, the SOLIDWORKS community is here to help you succeed. No matter your skill level, there is tons of value to be gained from interacting with other users who have the same questions as you!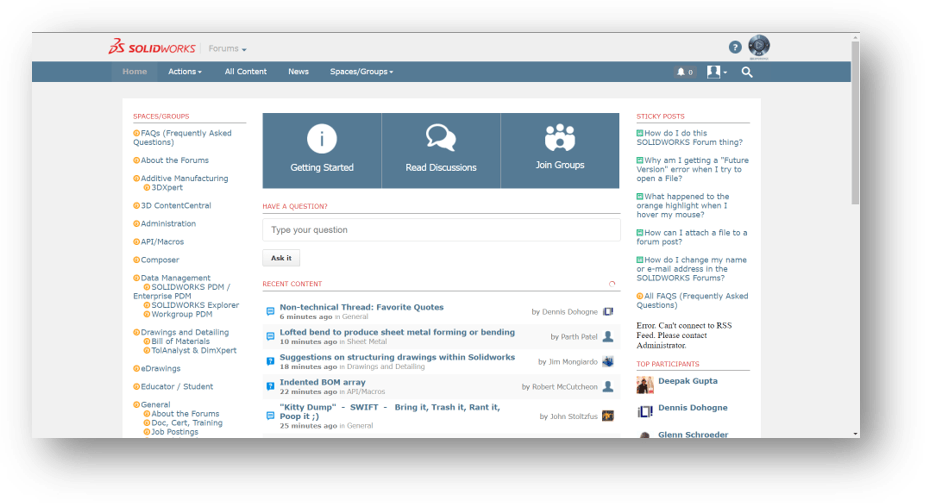 My.Solidworks.com
Provided by SOLIDWORKS, MySolidworks contains many training paths (each training path is composed of many individual topic videos) targeting a specific workflow of the software. Use these to your advantage to learn about areas of the software that is relevant to your profession. I would suggest starting with the "Part Modeling Basics" learning path.
*Note: online training works best when it is used to augment in-person training! Good modeling habits developed in the classroom have more staying power and will serve you better in learning the software.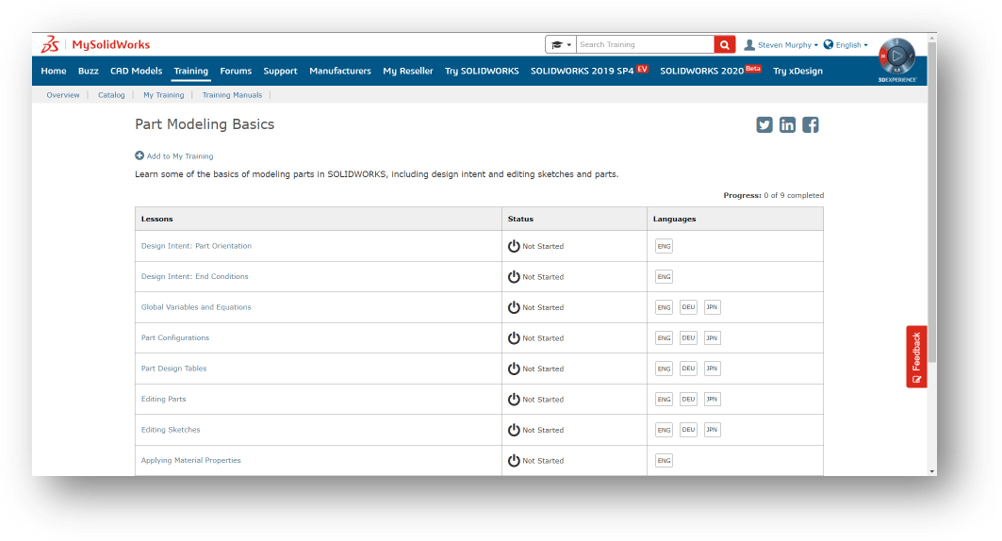 Step 2: Learn the User Interface
A key portion of getting used to any new software is learning the user interface (UI). You want to be comfortable navigating through the menus. Here is a brief description of the key UI elements for getting started:
Menu Bar
The Menu Bar contains a set of the most frequently used tool buttons from the Standard toolbar, the SOLIDWORKS menus, the SOLIDWORKS Search, and a flyout menu of Help options.
CommandManager
The CommandManager is a context-sensitive toolbar that dynamically updates based on the toolbar you want to access. By default, it has toolbars embedded in it based on the document type.
CommandManager Tabs
When you click a tab below the CommandManager, it updates to show that toolbar. For example, if you click the Sketches tab, the Sketch toolbar appears.
SOLIDWORKS Search
You can use SOLIDWORKS Search to find information in documentation and forums. You can also find files and models, and find and run a SOLIDWORKS command with just a few keystrokes.
Heads-Up Toolbar
A transparent toolbar in each viewport provides all the common tools required for manipulating the view.
Task Pane
The Task Pane provides access to SOLIDWORKS resources, libraries of reusable design elements, views to drag onto drawing sheets, and other useful items and information. The SolidXperts custom task pane (part of UtilsXperts) has all of our contact information, tools, and custom macros to help our customer base take full advantage of the SOLIDWORKS software.
Feature Manager Design Tree
The FeatureManager design tree on the left side of the SOLIDWORKS window provides an outline view of the active part, assembly, or drawing. This makes it easy to see how the model or assembly was constructed or to examine the various sheets and views in a drawing.
Graphics Area
The graphics area displays and lets you manipulate parts, assemblies, and drawings.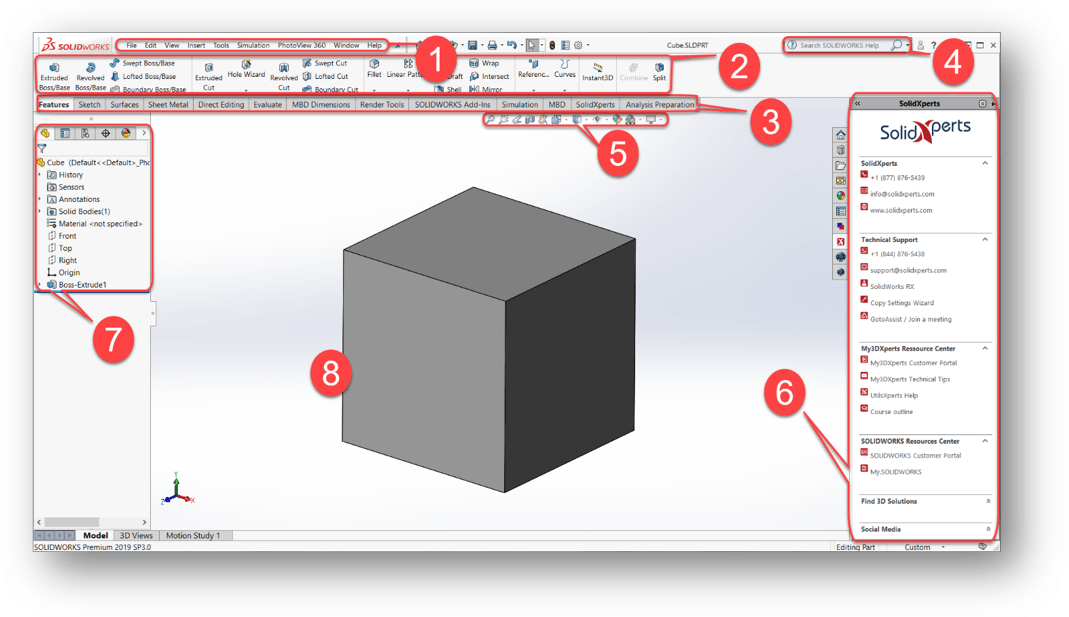 Step 3: Get Comfortable with the Basic Features
Now it is time to start using the program. As suggested earlier, check out the tutorials as they provide a solid explanation of the primary features used in CAD. Since the majority of CAD work only uses a fraction of all of the features available in SOLIDWORKS, focus on understanding these commands to start. Most people find that once you understand the thought process behind the below features, it is really easy to learn the rest! Focus on:
Sketch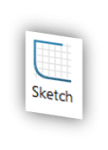 When you open a new part document, first you create a sketch. The sketch is the basis for a 3D model. You can create a sketch on any of the default planes (Front Plane, Top Plane, and Right Plane), or a created plane.
Boss Extrude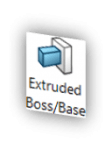 The primary method of converting 2D sketches into 3D geometry, the Boss Extrude feature allows you to add depending on several conditions to your part. You will need to either have a sketch or create a sketch in order to create an extrusion!
Revolve
Revolves add or remove material by revolving one or more profiles around a centerline. Use these to create cylindrical or spherical parts in a single feature! A perfect example of a revolve would be a soda can.
Extrude Cut
Want to remove some material? The Extrude Cut features allow you to get rid of material on your part. Be aware that you need to have material before you can activate the extruded cut command.
Hole Wizard
If you are looking to make any type of circular hole, look no further! The Hole Wizard contains specifications for the majority of holes, and even lets you bring that information into your 2D drawings automatically. Just select your Hole Type, Size, and Location to make your first hole.
While using these key features is a good starting point, it is not enough. During the SolidXperts courses, we discuss the ins and outs of these features and how to best apply them. Be you want to avoid picking up bad modeling habits!
Step 4: Start Modeling
See that pencil holder on your desk? Model it. What about your phone? Model that too! The more you work to understand completed parts as a combination of extrudes and cuts, the easier it is to CAD. There is no "secret" to getting good at modeling besides practice. At the end of the day, it takes time and a positive attitude to go from a casual user to a  master modeler.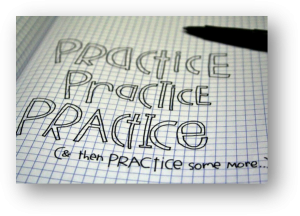 So that is it! If you follow this outline, you will have all of the tools you need to start modeling like a champ. Remember that you are only limited by your own creativity, so have fun and continue to grow. If you need help, feel free to give us at SolidXperts a call (we are the Experts!).
Know your Resources
Learn the UI
Get Comfortable with the Basic Features
Start Modeling
What's Next? After mastering the above, it is time to explore the more complex features and functions that SOLIDWORKS has to offer. Check out the advanced classes that SolidXperts has to offer like Surfacing, Weldments, Sheet Metal, and more!
SolidXperts teams can help you become true 3D experts! An additional question? Need information?
SolidXperts team is always there for you!