By Elene Teolis – SolidXperts PDM Application Specialist
If you use tasks in PDM, SW to PDF file conversion for example, during a New Version or Service Pack update the PDM Administrator must also update the add-in tasks to take advantage of new features, improvements, or fixes. The same procedure applies to updating the basic programming add-in, Dispatch.
Here's how to do it:
PDM Administration Tool > File > Open:
Go to > C:\Program Files\SOLIDWORKS PDM\Default Data
Open > C:\Program Files\SOLIDWORKS PDM\Default Data\Convert_gb.cex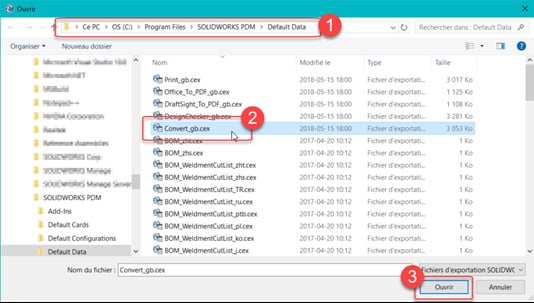 Here are the complements available and the associated tasks:
To update Dispatch, open Dispatch.caf
Drag and drop SWTaskAddIn (import only the add-in) from the window on the right, in Add-ins on the left:

Note: If you have a dedicated workstation that performs tasks, you will need to log out and reconnect to PDM to ensure that you have the correct add-in.
Reply Yes to 'Do you want to replace with the new object?'
It's that simple. The add-in is now up-to-date!
SolidXperts teams can help you become true 3D experts! An additional question? Need information?
SolidXperts team is always there for you!