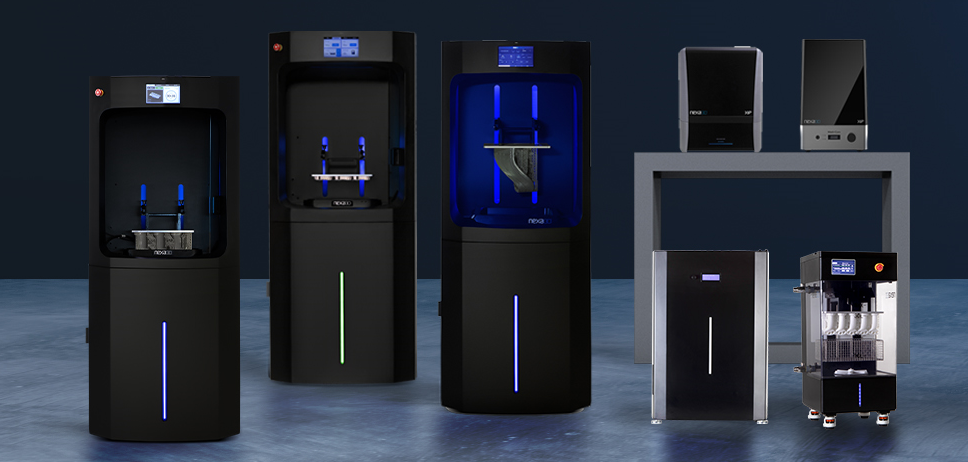 SolidXperts, a full-service CAD and 3D printing solution provider, to offer full Nexa3D range of ultrafast, industrial resin 3D printers.
Nexa3D resin printers deliver high print speeds without compromising accuracy or material stability to the dental, engineering, and product design industries.
Quebec, CA, December 15, 2022 – SolidXperts is excited to announce a new partnership with Nexa3D®, a leading provider of ultrafast photopolymer 3D printers that offer high print speeds, smooth surface finishes, and reliable repeatability, all on an open material platform. SolidXperts will officially offer Nexa3D's full range of resin highspeed 3D printers, including the XiP desktop printer and industrial NXE Pro series printers, to designers, engineers, and businesses across Quebec, Ontario, and New England U.S.A.
"My dad always said to me 'Time is money,' and that was the first thing that came to mind when I was introduced to the Nexa3D products.  I have a routine when I leave the office at night, I always look into our Additive Manufacturing Lab to see what's printing and then the next morning to see how far it's gotten.  Now, with ultrafast Nexa3D printers, I'll have to change my routine.  I am truly thrilled to be partnering with Nexa3D on our Additive Manufacturing journey."
-Alex Habrich, CEO and Founder of the SolidXperience Group
SolidXperts offers a comprehensive 3D design product portfolio that helps companies and engineers move seamlessly from conception to production by leveraging industry leading CAD software and a full range of 3D printers and scanners. Nexa3D printers enable manufacturers and designers to achieve better print quality and up to 20x productivity gains in-house, using patented LSPc® (Lubricant Sublayer Photo-curing) technology, that is significantly faster than traditional stereolithography and digital light processes.
"Nexa3D is thrilled to partner with SolidXperts to make our technology even more accessible to the Quebec, Ontario and New England regions. Their team is strong, with significant knowledge of 3D printing solutions, and they have built an incredible relationship with their customers over the last 25 years founded on trust and exceptional service."
-Patrick Sullivan, Vice President and General Manager of Industrial Products at Nexa3D
As an authorized reseller, SolidXperts proudly offers not only a comprehensive product portfolio of curated 3D printing options, but also offers printer materials, technical support, training, learning resources, consulting, and 3D design and printing services. Browse products and services, or reach out to the Xperts directly.