written by SolidXperts – USA Senior Technical Representative John Nolin
New metal 3D printing systems are available with a much lower price point and the ability to produce parts in a growing range of alloys. This is making metal 3D printing a valid option for manufacturing firms much smaller than the aerospace companies usually associated with metal printed components.
Custom Power Train
BowHead Corp produces the Reach adventure cycle that allows disabled persons to enjoy mountain bikes or similar trail systems. The custom power train components are metal 3D printed.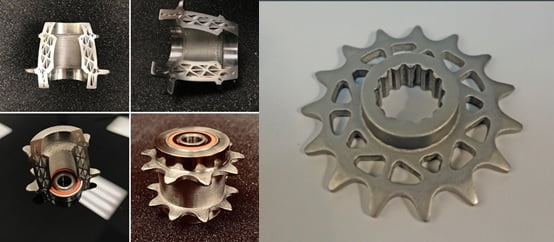 The printed drive and idler sprockets are lighter weight than a machined equivalent and have held up to severe off-road trail conditions. Metal printing allows for customization of sprocket spacing and OD which can be difficult to obtain with standard off-the-shelf components.
Similar parts can be easily printed for commercial conveyor roller chain systems as well. Tables representing the appropriate ASME/ANSI B29.1 standard can be found here: https://www.engineersedge.com/power_transmission/roller_chain_dimensions_13610.htm
A Better Grip
3D printed end effectors are a popular user upgrade or customization for traditional manufacturing pick & place robots. For gripping on parts with internal course threads or other hard-to-handle surfaces, a custom-fit set of gripper fingers can be easily printed in metal.
Cast No Doubt
Sometimes the anticipated annual product quantity does not readily justify the expense and inventory issues of minimum casting runs. This is an area where the option to metal 3D print a component can have significant savings. Properly designed for the 3D metal printing process, a component can combine features that might otherwise require additional fasteners and assembly work.
These are just a few samples of the components that can be quickly and easily produced with Metal-X 3D printing. The range of metal alloys available to print is growing every few months. Currently, it includes stainless steel (17-4), tool steel (H-13, A2, D2), and Inconel (625). Additional stainless steels, Copper, and Titanium are in development. The ability to quickly and inexpensively print metal components will spur further innovation in design and help to bring production local to where it is used.
John Nolin
Senior Technical Representative
SolidXperts USA
Metal-X Certified Technician
SolidXperts teams can help you become true 3D experts! An additional question? Need information?
SolidXperts team is always there for you!